So in my 7 months of rambling on this blog, you have probably learned many things about me:
1. I am very opinionated
2. I LOVE Florida...It is my home, and it will always be
3. I'm a cracker boy and proud of it
4. I LOVE nature
5. I love to kayak and hike
6. I love the South
So take those little facts and compare them to what I am about to tell you...
Prepare yourself...
...
I am a rabid hockey fan.
Yeah, that's right, you read me.
I love hockey.
Weird, eh?
You don't meet too many Southern Florida Cracker boys who have a liking of a sport played on ice. Why, do you ask?
Well..
1. Hockey is the toughest, most physical professional sport played in this nation(don't you football people give me any crap...you have lots of pads, lots of nice play stoppages, and no crazy Russians.)
2. It is by far the most culturally and nationally diverse sport in this nation.
3. The players are comparatively humble for the most part, and they do not make the HUGE sums of money that a lot of football, basketball, and baseball players make.
4. And, last but not least...THERE'S NOTHING MORE EXCITING TO SEE A BUNCH OF EUROPEANS, RUSSIANS, CANADIANS, AND AMERICANS SMACK EACH OTHER AROUND!!
So now you know something else about me that I KNOW none of you would have guessed. I can often be found early in the morning or after dark on my roller skates, with gloves and stick in hand, attempting to refine my street hockey skills that I lost a few years ago after I quit playing for a while. I would love to play ice hockey, but I have never seen ice outside of the freezer...and I have never even seen an ice rink before. I guess that's one of the few downsides to living in Florida :-D.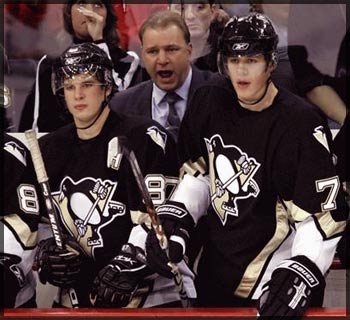 My two favorite players and my favorite coach. (From Left: Sidney Crosby, Michel Therrein, and Evgeni Malkin.)